Ever heard of a doctor, who makes a H2H (human to human) connection with a patient first and starts treatment later, unless of course it's an emergency. Here comes one.
Background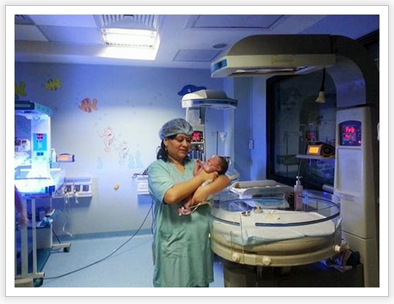 Syringes and tablets were her toys and a genuine heart to heart smile was a divine gift to her. After all, Dr. Nupur Gupta wanted to be a doctor, right from her childhood days.
Her father being a doctor, she knew of the respect and recognition the profession commanded. She began her medical studies in 1990 at Jaipur and finished her post graduation in the year 2000. A decade of in-depth medical studies had laid the foundation for an illustrious career ahead.
During her eight years of employment at India's traditionally best hospital "AIIMS (All India Institute of Medical Sciences, New Delhi)", she was exposed to the best in terms of medical care and technology. Thereafter she began her private practice and established 'Well Woman Clinic', at Sukhda Hospital, New Delhi and later in Gurgaon in 2010. She has also been associated with Fortis' La Femme and Apollo Cradle, Gurgaon.
As a Human Being
When it comes to being a wonderful human, she is no less. She fundamentally believes, "Every human being has something good." And no wonder she has good relationships with people all around and her family of course.
She emphasized, "I believe in having genuine concern for my patients and that concern should be visible even in my body language. Then only I can connect with a patient at a human level."
Medical Approach
Her total work experience exceeds 15 years in surgery and consultation. Interestingly, people often approach her through her website and social media and obviously there is no referral in such cases. Yet they come with so much trust, it has surprised her at times. The high level of trust they impose in her amazes her all the more, because they come not just for consultation, but come for surgeries too. She shared, "My patients have come from different parts of India including Chennai, Kolkatta, Jodhpur etc and in fact some of them have come from abroad including Sweden, Canada, Oman, USA etc."
She has a very scientific bent of mind and believes in evidence based medicine, which is proven. Yet she makes a conscious effort at H2H or human to human interaction with her patients. Since it helps in connecting with the patient emotionally, interestingly the patients tend to be more compliant and follow what she says as a doctor. She added, "My expertise lies in high risk pregnancy with medical complications, gynae endoscopy, (laparoscopy and hysteroscopy), family planning and clinical research. It has been a matter of pride to have a mentor like Dr Suneeta Mittal, currently HOD-Gynecology, Fortis Hospital, Gurgaon."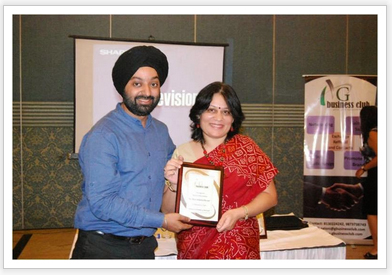 As a Manager and Professional
She pointed out early in our discussion, "Many of my interns and other employees have got excellent job offers after working with me, but I am proud that I provided them with an excellent training ground and platform for learning."
She believes in 'Tough Love' and being a person of principles. When a junior resident doctor did not come in time for her interview and did not even care to inform, she refused to interview her. She wants to have dedicated people in her team and is not ready to compromise on her patients' well being.
She also shared, "I impose the same discipline on myself. Any patient walking into my OPD must get my 100 % attention, even if I am in the worst of mood or have problems in my life at that point of time. In fact as a doctor, I believe personal life is often sacrificed for the sake of professional life and sense of duty, so important for a medical professional."
She emphasizes the key values held dear at her 'Well Woman Clinic', which include competency, honesty, trust, emotional connect, commitment, availability 24x7, and courteous behaviour. And she believes the right behavior starts from the front desk itself.
Other Professional Interests and Honours
She has published more than 100 papers, case reports and research articles in several reputed international medical journals. She is also a specialty reviewer in reputed journals like 'International Journal of Gynecology and Obstetrics'. She has also been a contributing author to many medical text and reference books. She has also contributed as invited columnist for many newspapers and magazines including Hindustan Times . She has also received many national and international awards for her publications as well as medical achievements.
She pointed out, "I am also passionate about research and teaching and staying updated on the latest advances in the medical field."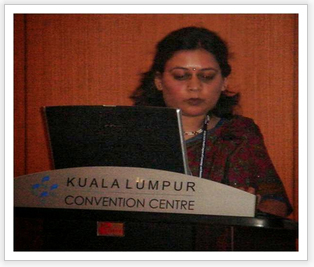 In 2003, she was part of the medical consortium, which formulated medical abortion guidelines of India and later on was also involved in the government's emergency contraception guidelines and guidelines relating to early detection and treatment of anemia in adolescent girls. All these opportunities have given her a golden chance to interact with and learn from the best medical brains nationally and internationally.
She has been part of radio talks (Gurgaon ki Awaaz) and has also presented papers and posters at various national and international conferences (Some of them are Pacifico Yokohama, Japan, Kathmandu in Nepal, FIGO Malaysia).
The Role of Human Psychology
Dr. Nupur has worked closely with clinical psychologists and has learned and realized the importance of understanding human psychology in treatment of patients. In fact she joked, "May be it's not all in the mind. Yet, it's a lot in the mind."
She is a keen observer too and remarked, "I also try to assess what is the patient or the other person thinking about me. Sometimes, if I don't see that trust in their eyes, I tell them to meet and take second opinion from the best doctors in my specialization and give them their contact details also. "
Yet, she believes, sometimes an illness may not have a permanent cure and the patient has to come to terms with it, by accepting the facts emotionally and mentally. Taking multiple opinions is of no use under such circumstances.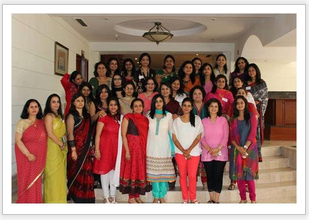 Associations and Organisations
She is keen on giving back to the society and is associated with many women organisations, NGOs and other social organisations.
Major organisations include Bhaavini (women empowerment NGO), Women Energizers, and networking organisations like G Business Club and BNI Incredibles.
Holistic Healing
She believes in holistic healing, and told me, "My long term goal is to popularize preventive gynecology in a more structured way by franchising my 'Well Woman' brand and taking it national with help of an investor. My ideal team consists of a Nutritionist, a Life Coach, Fitness expert, Psychologist and a Women Health Imaging professional, besides paramedical staff and health insurance support of course."
Dr. Nupur's story is inspiring and so is the story of Well Woman Clinics. That's why I say for Dr. Nupur, "One Woman, Two Inspiring Stories."
And I can say it with confidence and conviction, "All is well at Well Woman clinics with Dr. Nupur's inspiring leadership."